A couple people suggested writing a post that goes over my basic process in tackling an illustration (be it personal or for a project) from ideation to final art, so here we go!
I'm going to go over the basic steps that I go through and what sort of things go through my mind each step of the way. I'm not necessarily going to go too deep into my actual painting process, as let's be real, once I get in there I don't really know what I'm doing and just hope for the best.
Also just as a top note, these are my perfect case scenario steps along the way. I don't do all these steps every illustration, sometimes I skip a couple, and sometimes it it backfires on me. When I do follow this process, things usually work out fairly good.
Step 1: An Idea
Unless I feel in the mood for possible disaster (and sometimes I do), I will start any illustration with a basic idea in mind. Something I can picture, feel, or at least begin the process with.
What is it for? A Story? Stand Alone illustration? Character piece? What's the scoop of the idea? Is it in the day or night? Where? Time period? Clothing? Characters? Etc
Step 2: Research
Depending what the illustration is going to entail, it can be a big help starting a reference folder and quickly scouring the innards of the internet in search of some images/photos to help inspire as well as inform your illustration. A lot of little new ideas can seep into your brain as you research and work towards making your illustration contain more depth and life. These images can also help a lot down the road if you need reference for sketching or painting certain elements. I don't want to copy or trace any of my research images. Only use them as a reference point.
Step 3: Thumbnails everywhere!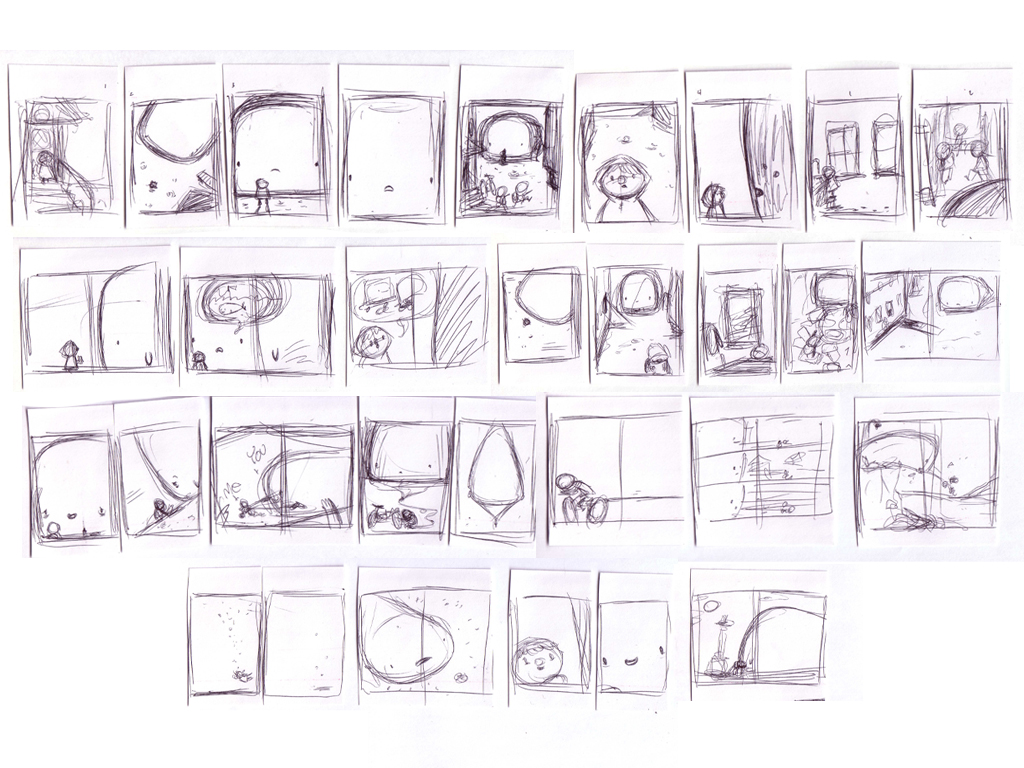 Small. Rough. And lots.
Forget that endless abyss of fear staring down on a blank white empty canvas and start sketching some fast ugly little drawings! Regardless if I have a layout in mind, I find it's always helpful to quickly sketch a heap of different thumbnails options to hunt for the best candidate. Trying out any and all layout ideas I can think of, while keeping them extremely loose and rough (don't get lost in any details!). I sketch out my thumbnails on sticky notes and small cue cards most of the time, or rows of them on a single piece of paper. Make sure you are happy with your thumbnail as a starting point.
Step 4: Sketching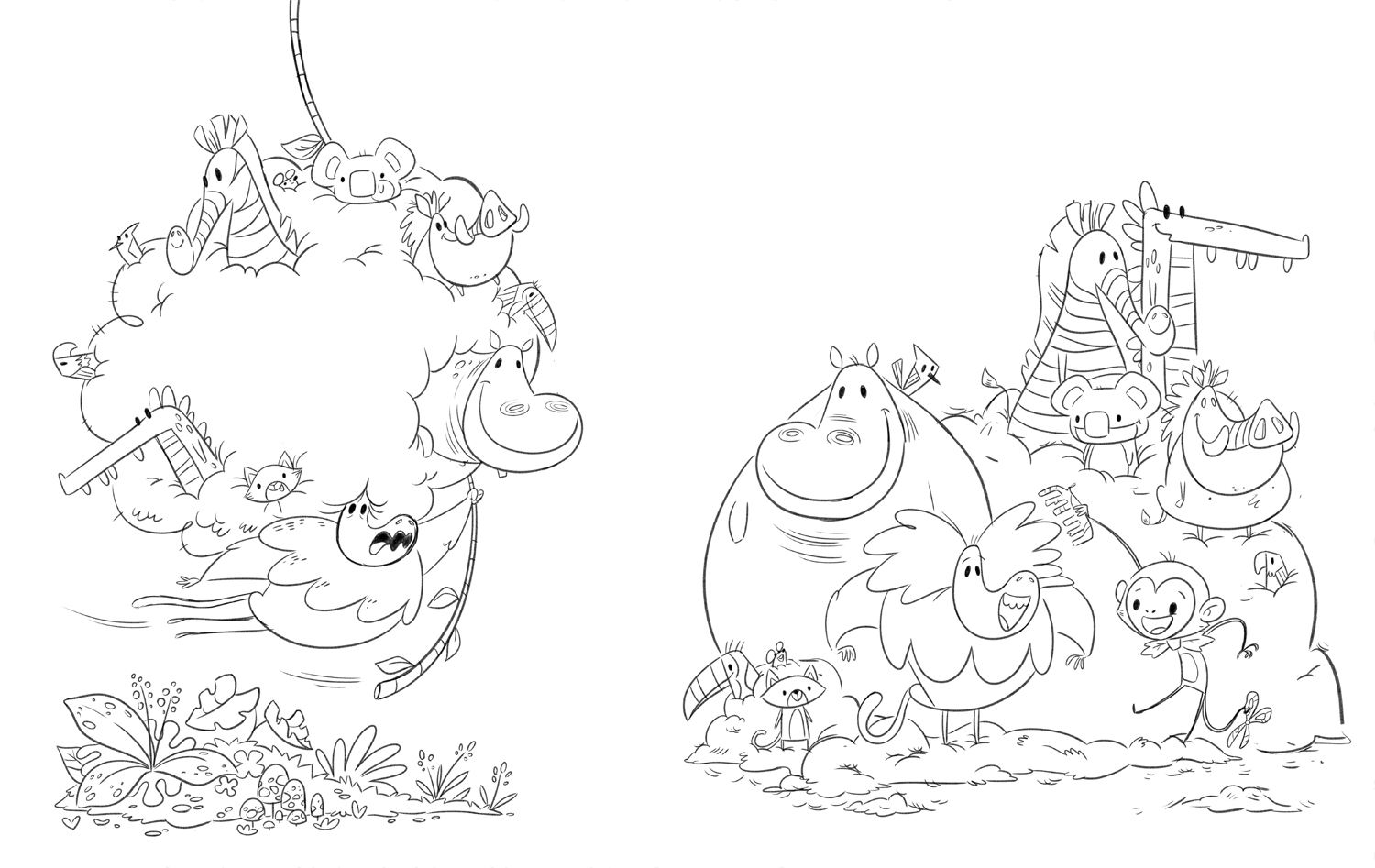 Taking my little terrible looking thumbnail in photoshop, I stretch the lil' fella into the canvas size I want my final illustration created in and start on doing a full clean sketch overtop on a new layer. Sometimes when I'm fighting with an illustration I will do a couple phases of sketches, slowly getting it tighter as I go. It just depends on how it's coming together and/or if I need to break it down in several stages to get a clean sketch. Sometimes I print out the stretched thumbnail and do the clean sketch with pencil but most of the time these days I do it all digitally in photoshop. This step is pretty much nailing your artwork for the illustration sans the colors. Before moving forward you should feel you captured what you were hoping and can take it to color knowing the base art is there.
**Big super ultra tip** Make sure you fix any and all problems with your drawing in the sketch phrase. Never rush ahead with intentions of fixing artwork in the coloring phase! Headaches guaranteed otherwise! I still do it sometimes, and I hate life when I do.
Step 5: Color Thumbnails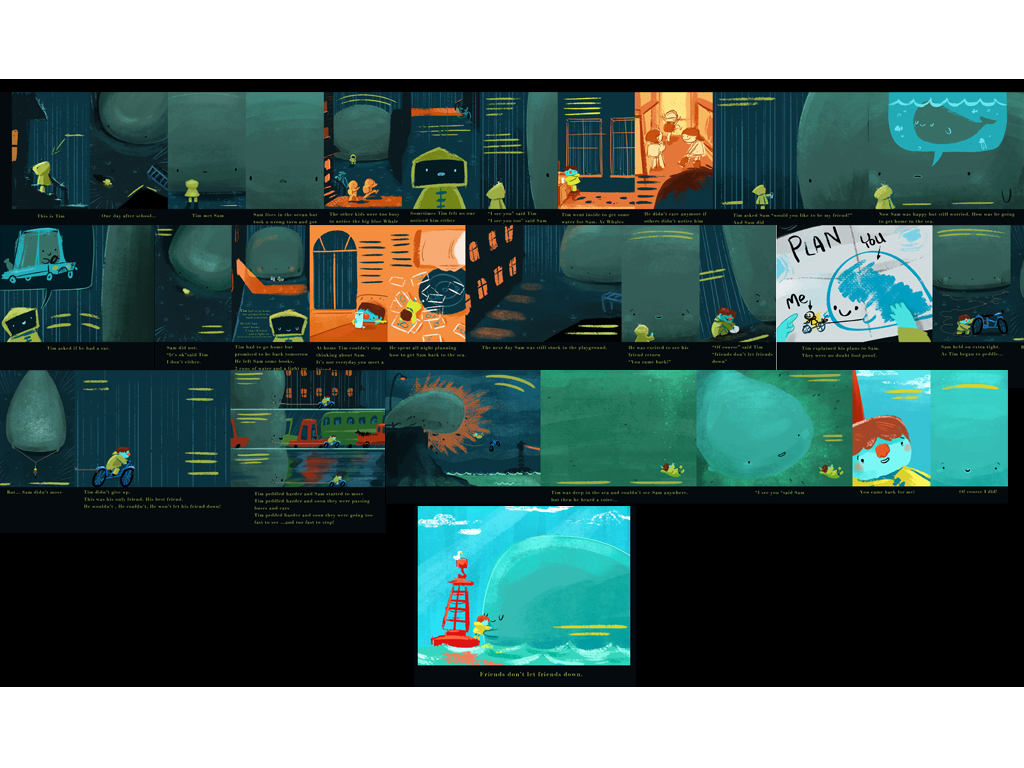 Color thumbs are a great way to explore palette ideas, go crazy and experiment with color. A lot of the time I will take my clean sketch and shrink it on a small canvas (don't want to get distracted with details). From there I just brush on flat colors over the image, trying to hunt for the mood, atmosphere and feel I want the illustration to have. I tend to put the colors on separate layers in photoshop so I can experiment and quickly change different elements as I search for a palette I like. The main thing is to keep them loose and take the time to explore colors to find something interesting and fitting for your illustration.
Step 6: Bring that illustration to final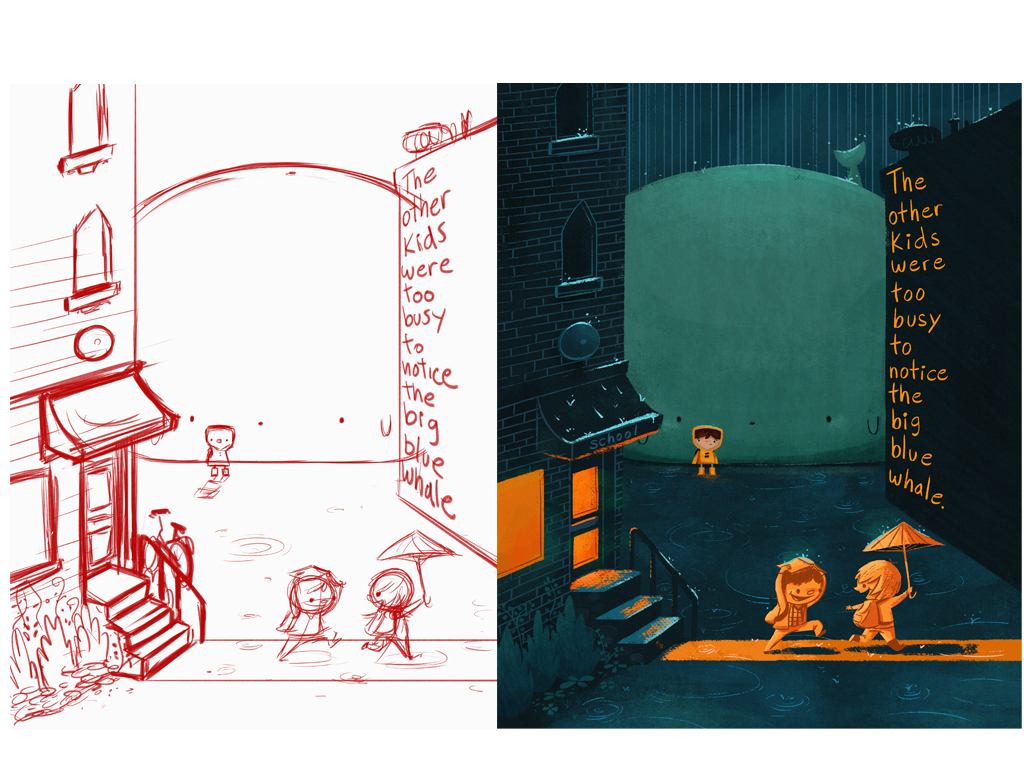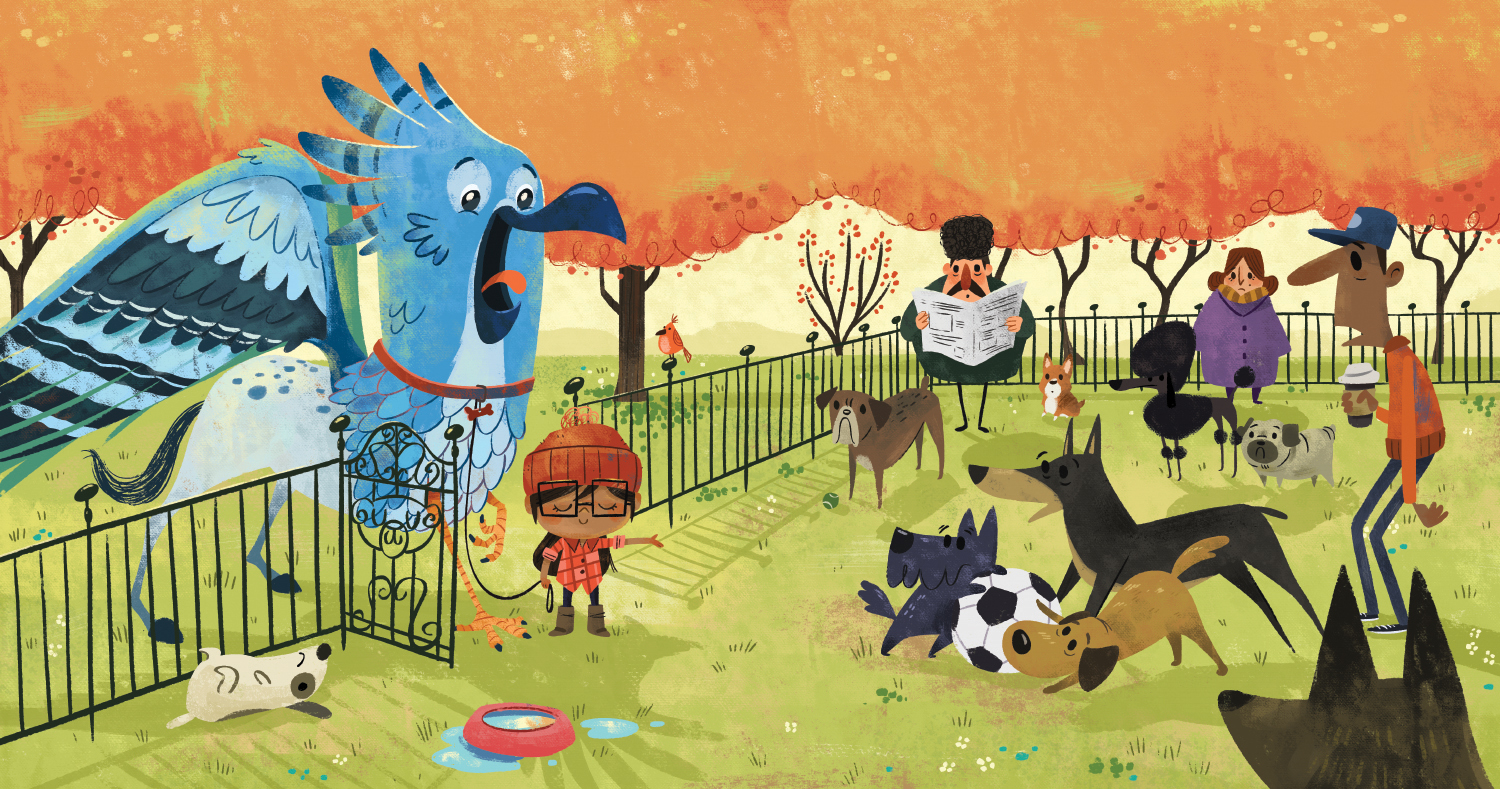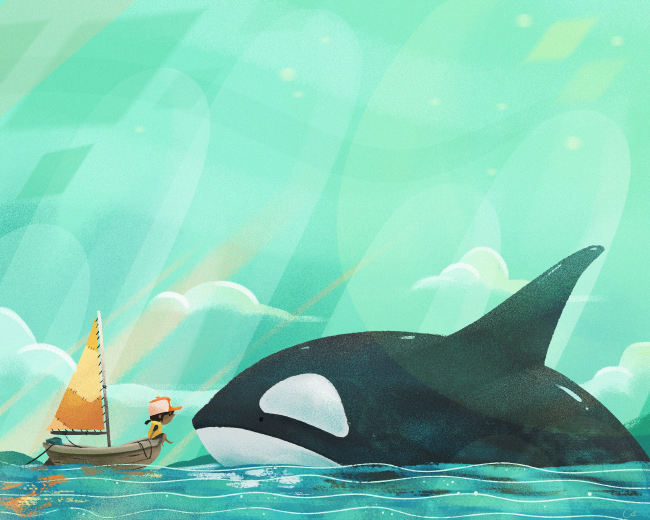 Now that I have my clean sketch and a color thumbnail I'm happy with, it's time to get painting! I throw my clean sketch on a 'multiply' layer in photoshop and then just start laying down all the flat colors. My painting process from here on out can really change illustration to illustration. Sometimes I'll lay down all the flat colours and then move into shading/rendering, and other times I'll just fully start painting different elements as I go. Like I said up top, it can be a bit of a free for all. It can be nice to switch up the painting process as you go to keep it interesting for yourself. Painting flat colors can get pretty tedious, so if switching up your method makes it more fun for you, then hey, nothing wrong with that! Play and try new things! I'm also a pretty big layer fiend and guilty of letting my working files pile mountain high with layers. Again, it's really just whatever works for you and allows you to get that illustration as close as possible to what you're wanting.
For those interested in photoshop brushes, I did put together a tool preset pack of some of the brushes I've made and use. You can find that pack here: http://gumroad.com/caleatkinson
I also highly reccomend the brush master Kyle Websters brush packs: http://gumroad.com/kyletwebster
If possible, it's always nice to have a step away moment to let your head clear out and then re-look at the illustration with fresh eyes for any last tweaks and shifts.
Throw in 1,000 layers, 5,000 saves and 15,000 undos and there you have it!
Last things to keep in mind:
There is no right or wrong process, do what works for you!

Experiment and try new things!

Be prepared to call a piece finished and move on to the next.

Be careful if you get too inspired by other artists work as you work on a piece, it may begin to become an eery subpar clone of their work. Inspiration and imitation are close neighbors.

The more you plan and prepare, the smoother the journey ahead (While I admit I don't follow this as much as I should).

It never hurts to get some feedback or crits as you go to pick up on any things you may have missed.

Have fun!
And now I'll leave you with my process for writing: